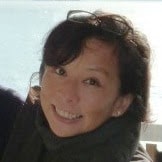 Of Chinese, German and Mexican heritage, Myra Sito Velasquez is an award winning filmmaker and playwright based in NY. Her films have screened in numerous festivals across the country and abroad. Her debut film MOTHER'S BLOOD  was the winner of The Lawrence Kasdan Best Narrative Film Award, Grand Prize Chicks with Flicks, Women in the Director's Chair National Tour among others. Her action comedy KUNG FU GRANNY was the recipient of Big Island Film Festival's Golden Honu Best of the Fest Short Film Award, HIFF's Gold Kahuna, BIFF's Family Favorites with world wide distribution via Ouat! Media and Movieola. Myra's feature screenplay DIANA is a Sundance Lab Finalist as well as Bluecat Award Winning Finalist. Her play THE ASTONISHING JOURNEY OF MABEL LI AND THE MYSTERIOUS WAYS OF LORD BA THA ZA is a Eugene O'Neill Playwrights Conference Finalist and part of Mu Theater's New Eyes Festival.. Her staged reading of THE SOLDIER was co-produced by Asian American Film Lab. Myra has also served as literary advisor at American Place Theatre, IFP Script Consultant, a member of CIneWomenNY Screening Team. She has most recently completed her first radio podcast THE FORKS!  THE FORKS! is also a short screenplay and is a Big Apple Film Festival Best Short Screenplay Semi Finalist Fall '21.
Please go to individual Projects for Comprehensive Awards and Official Selections.
Sundance Lab Finalist
DIANA
Big Island Film Festival 2009
Audience Choice Best of the Fest Short Film
KUNG FU GRANNY

Finalist, Short Script 2008
BlueCat Screenplay Competition
KUNG FU GRANNY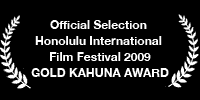 Gold Kahuna Award for Excellence in Filmmaking 2009
Honolulu International Film Festival
KUNG FU GRANNY
Five Top Finalists
Portland Comedy Film Festival Spring 2019
THE FORKERS
Semi-Finalist
Cinequest Screenwriting Competition 2022
THE FORKS!
Best Family Friendly Fiction Podcast
New Jersey Web Festival 2022
THE FORKS! A radio play
Lawrence Kasdan Best Narrative Film Award
Ann Arbor Int'l Film Festival
MOTHER'S BLOOD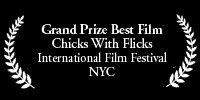 Grand Prize
Chicks with Flicks
MOTHER'S BLOOD
Best Actress Award, Nina Zoie Lam,
Lead Actress
Chicks with Flicks
MOTHER'S BLOOD

Award Winning Finalist Feature Screenplay
Blue Cat Screenplay Competition
DIANA
Big Apple Film Festival
Short Screenplay Semi-Finalist
THE FORKS!
Official Selection
New York International Screenplay Awards 2022
THE FORKS!