Written and Directed by myra sito velasquez/ Produced by sunah kim schultz and myra sito velasquez
KFG Synopsis
Action Short by Myra Sito Velasquez based on her feature film screenplay KUNG FU GRANNY
Running Time: 13.17 minutes / Format: HD
With the world's largest child prostitution ring run by the notorious Pangolin Crime syndicate busted by none other than one of New York's finest, Vice Cop Sergeant Randall Leung, the world can breathe at last! …. Or can it? Members of Pangolin are out for revenge and the first on their list is and the first on their list is Sgt. Leung! But little do they know what they're up against, for behind Sgt. Leung stands his grandma, the one and only KUNG FU GRANNY!
DIRECTOR'S STATEMENT
As much as KUNG FU GRANNY is a comedy, she emerged out of my irritation with the all too frequent shabby treatment of older people. In this regard, as oft used as the 'sand & oyster' metaphor is, Granny is indeed my pearl!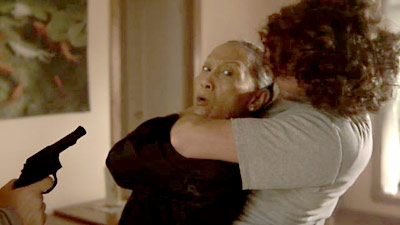 Cast Bios
Kung Fu Granny

Ching Valdes-Aran*

Kung Fu Granny Cast Ching Valdes-Aran is an actor, director, playwright and painter. Broadway: The Wild Party(Virginia Theatre), Shakespeare On Broadway (Lady Macbeth, Lady Capulet, Duke Senior; Belasco Theatre). Major roles: The House Of Bernarda Alba (NAATCO); Mother Courage (Ma-Yi Theatre); Medea (Pan Asian Rep.); Empress Of China (Cincinnati Playhouse); Philoktetes (Shatterhand Co., Berliner Fiestpiele); Clytemnestra (Iphigenia At Aulis, Yale Rep.); Olan (The Good Earth, Bristol Riverside); Imelda Marcos (Dogeaters, Public Theatre/La Jolla Playhouse). Other theaters: Macbeth/Julius Caesar (Delacorte Theater); Homebody/Kabul (NYTW); Jocasta (Oedipus, Wilma Theatre) La Mama E.T.C., HERE Arts Center, The Foundry, DiverseCity, Immigrant Theater, Womens'Project, Arena Stage, A.C.T., Edinburgh Festival, London International Festival, Amore Theater (Greece). Film/TV credits: Across The Universe; Sex &The City (upcoming); Law &Order CI, Rescue Me, etc. Directing credits: La Mama E.T.C., Penumbra Theatre, Immigrant Theatre, Ma-Yi Th., Terre de Scene (France); member of Lincoln Center Director's Lab. Awards: OBIE (FLIP-ZOIDS, Ma-Yi Theatre); Spencer Cherashore Award, Charles Bowden Award, Asian Cultural Council Writing Fellow, MAP Rockefeller Grantee, and a FOX Fellow
Winnie Leung

Cindy Cheung*

Kung Fu Granny Cast Cindy Cheung's film and TV credits include Lady In The Water, Falling For Grace, Robot Stories, Law & Order:CI, Law & Order:SVU, Jonny Zero, Sex &the City, Sesame Street and the FOX pilot Julie Reno, Bounty Hunter. New York theater includes Sides:The Fear Is Real (Mr. Miyagi's Theatre Co), Bernarda Alba (Lincoln Center workshop), Antigone (NAATCO), Karaoke Stories (Imua!), Masha No Home (E.S.T./2G), The Karaoke Show (Project 400/2G) and Making Tracks (2G). Regionally, she has appeared at A.C.T., South Coast Repertory, Florida Studio Theater and East West Players.
Sgt. Randall Leung

David Shih*

Kung Fu Granny Cast Film & TV credits include: SAVING FACE (Sony Pictures Classics), MISSING (AZNTV), LATE NIGHT WITH CONAN O'BRIEN(NBC), ALL MY CHILDREN (ABC), INTERPOL INVESTIGATES (National Geographic Channel). Theater credits include: SAKE WITH THE HAIKU GEISHA (Gotham Stage Company); ROLLER DERBY, dir. Donald McKayle (NYMF); 365 DAYS/365 PLAYS (The Public Theater); THE TEMPEST, dir. Joe Morton (The Public Theater); THE AMERICAN CLOCK, dir. Austin Pendleton (HB Playwrights Foundation); PING PONG DIPLOMACY (59E59 Theaters); STOCKHOLM, BROOKLYN (Cherry Lane Theatre).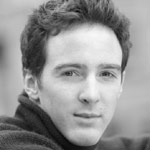 Thug One "Peach"

Jim Ford*

Kung Fu Granny Cast Jim Ford was born and raised in Worcester, Ma. Shortly after high school he turned down a shot at the PGA to pursue acting. Directly after getting his BFA in theatre from the Hartt Conservatory and extensive shakespeare training from Oxford he moved to New York where he stumbled upon the stunt industry. Within two years he had become Ed Norton's stunt double for the 2008 film Pride and Glory and worked as a stuntman for Sopranos, Law and Order, One Tree Hill, CSI: NY and a variety of films, mini-series and national commercials. Currently he is combining his acting and stunt skills in a number of projects including Kung Fu Granny. He likes birthdays, baseball and his dog's name is Murphy.
Thug Two "Tzabo" Michael Yahn
Kung Fu Granny Cast Mike Yahn is a graduate of NYU's Tisch School of the Arts and is a Certified Teacher through the Society of American Fight directors. He has worked with the New England Shakespeare Festival, Oberon Theater Ensemble, HonkBark Productions, Instant Shakespeare and has recently been spotted on T.V. dressed as a Pirate attacking a 10 year old for "Disney's Pirates of the Caribbean" Action Figures. When he's not playing with swords at Combat Inc, Mike can be found engaged in full on Kung Fu fights teaching self-defense at City WingTsun. "Fight with No Mercy, with Mercy don't Fight."
Jonathan Leung

Noah Breymeier

Kung Fu Granny Cast Noah is a six grade honor student at the Garnet Valley Middle School, near Philadelphia PA and is a Tang Soo Doo Black Belt. His hobbies include computer gaming, piano, swimming, and wrestling. Noah's musical theater credits include Jerome in SOUTH PACIFIC, Ugly in HONK JR. and Bill in THE RANSON OF RED CHIEF. KUNG FU GRANNY is Noah's film debut and he will soon be seen as Yao in the independent film TWO STAR STATE OF MIND. Noah will also appear in M. Night Shyamalan's THE HAPPENING being released by Twentieth Century Fox in June 2008.
Ellissandra Leung

Danielle Chin

Kung Fu Granny Cast Danielle Chin is currently a freshman in high school whose favorite subjects include Honors Biology and Honors English. She participates in many extra curricular activities such as Stomp Team, Habitat for Humanity, as well as martial arts and acting. One of Danielle's favorite roles in a school performance, was playing the part of Beethoven's bookworm. KUNG FU GRANNY marks her film debut.
Randall's Mother

Nina Zoie Lam*

Kung Fu Granny Cast Nina Zoie Lam is so thrilled to be a part of Myra's "Kung Fu Granny". This is her second collaboration with Myra, the first was playing the part of 'Mother' in "Mother's Blood" for which she was awarded Best Actress Award at Chicks with Flicks Intl Film Festival NYC. She has been on Broadway and has toured nationally with 'A Chorus Line', 'King and I', 'A Funny Thing Happened… and 'Miss Saigon'.
Randall's Father

Henry Yuk*

Kung Fu Granny Cast Henry Yuk has worked extensively with Pan Asian Rep (including, "Yellow Fever", "Teahouse", "Yellow Is My Favorite Color", "Mom, Dad, I'm Living With A White Girl"), as well as with NAATCO ("The Cherry Orchard", "You Can't Take It With You") and Ma-Yi Theatre Co. ("The Square", "No Foreigners Beyond This Point"). Film work includes "Brooklyn Lobster" with Danny Aiello, Martin Scorsese's "Kundun" and the cult classic, "The Last Dragon". TV includes "The Sopranos", "Cosby", "Dellaventura", the various Law and Order shows, as well as various commercials.
Police Commissioner Walker

Craig Walker

Kung Fu Granny Cast Craig Walker does not play an actor in real life. He works in an office staring at a computer like normal people. But he had so much fun making "Kung Fu Granny" that he's willing to give it all up to become a movie star. Previous credit was a Brylcream commercial in 1968 when he had hair. He'd like to thank Myra and the crew for having him.
TV Interviewer Liza

Nicole Franklin

Kung Fu Granny Cast Nicole Franklin is an award-winning filmmaker whose credits include The Double Dutch Divas!, Short Comings. . . Humor in Orgasmic Proportions and her current film Meet BESS, which profiles the soprano who originated the role of Bess in Porgy and Bess and the actress for whom George Gershwin wrote the part. Nicole is a film/television/theatre and commercial director, an editor, a post production supervisor, a guest speaker on the topic of women in film. Nicole is also an actress/on camera personality. She is featured in Steven Soderbergh and Steve Buscemi's production of director William Greaves' Symbiotaxiplasm Take 2 Percent and Myra Velasquez's Kung Fu Granny.
Melvin The Family Bird

Jessie, the Sun Conure

Kung Fu Granny Cast JESSIE is the proud owner of human Rachel Komito whose athletic skills so impressed the crew that she landed the coveted role of Granny's stunt double. Some of Jessie's favorite things: nibbling ears, apples 'n grapes. He is thrilled to have his film debut in KUNG FU GRANNY. With no prior acting experience, he winged it with flying colors!

*Courtesy of SAG
Key Crew Personnel
Director/Writer/Producer

Myra Sito Velasquez

Of Chinese, German and Mexican heritage, Myra Sito Velasquez was born and raised in Tokyo. A graduate of Sarah Lawrence College, Myra's debut film MOTHER'S BLOOD is the winner of the Lawrence Kasdan Best Narrative Film Award, Grand Prize Best Film Chicks with Flicks NYC at which her lead actress Nina Zoie Lam also won Best Actress Award. MOTHER'S BLOOD has screened at numerous festivals across the country and abroad. Her film THE LOVERS premiered at the AMPAS accredited Palm Springs Intl Festival of Short Films, followed by the 29th Mill Valley Film Festival, Sedona Intl FF, and most recently with CineWomenNY at the Pioneer Theater in New York City. Myra's DIANA is an Award winning Finalist of the BlueCat Feature Screenplay Competition 2006 and her KUNG FU GRANNY short screenplay is a Finalist of BlueCat Short Screenplay Competition 2008. KUNG FU GRANNY is based on Myra's feature screenplay of the same title.
Producer Sunah

Kim Schultz

Sunah Kim Schultz was born and raised in Seoul, Korea. But now she calls New York home. She recently discovered the joy of filmmaking, and decided to dedicate her life in creating beautiful and mind-provoking films. Producing Kung Fu Granny was the wonderful beginning of her new career. Since then, she produced a Thesis Short Film for a Columbia University Student, and is currently in post with her first feature project.
Director of Photography

Eu-Nah Lee

Eun-ah Lee was born in Seoul, South Korea, where she developed an early passion for painting. After completing her degree in fine arts, she enrolled in the graduate program at New York University in cinematography. Eun-ah has photographed over 50 films including the feature "Rigodon" winning Best Picture at Independent Filmmakers. She is also a recipient of Nestor Almendros Award for Excellence in Cinematography. Her works has screened internationally. She resides in New York City and travels to Asia for work.
Editor, Sound Design & Foley, Post Production Supervisor

Vincent V.

Since 2000, Vincent has been a driving force at MTV Networks conceptualizing hit shows like "Cribs," "True Life," "Diary," as well as UN documentaries with Angelina Jolie, Jay Z, and Bono in their efforts to raise aid for Africa. Vincent also played a key role in launching three of MTV's hottest channels: Mtv Tres, MTV Jams and MTV Hits. His work has been nominated for three Emmys, a Museum of Radio and TV award, 2007 Environmental Award for the documentary Jay-Z Water for Life, and a Prism Award for I Can't Breath. In 2007 he picked up a Grand Jury prize for Outstanding Achievement in filmmaking for the documentary feature The Art Fusion Experiment. Recently he joined forces with the New York Times on a series of short films called The Screen-Test starring Natalie Portman, Charlize Theron, Marion Cottilard and Joseph Gordan-Levitt. Vincent started HSH Images Noise with his partner Chip Karpells. Their mission is to ensure high quality edit and sound design with all the the discretionary comforts of home.
Music

Michael Montes

Michael Montes began teaching himself to play the piano at the age of seven and later dropped out of medical school in order to make composition his life's work. He has composed scores for numerous films including Joan Stein's Academy Award nominated One Day Crossing. He is the founder of commercial music company Sacred Noise and is considered one of the top composers in the field. Several of his pieces are included in the permanent collection of New York's Museum of Modern Art. He lives in New York City with his wife Jane Wulf and their son Mario.
Fight and Stunt Choreographer

Michael G. Chin

Michael G. Chin serves as the Fight Coordinator in residence for Pan Asian Rep. He is recognized as a Fight Master, Fight Director and Certified Teacher as well as coordinator for the National Stage Combat Workshops with the Society of American Fight Directors. He has choreographed on Broadway, Off Broadway and at Regional Theatres throughout the country. He is on adjunct faculty at Muhlenberg College in Allentown, PA. and Brooklyn College. In 2005 he won the Outstanding Fight Direction Award from the New York Theatre Fringe Festival.
SPECIAL THANKS TO:
Asian American Film Lab
Mark & Anne Breymeier
Sandi Carroll
Alice Chin
Sung Jin Cho of JYP Entertainment
HSH ImagesNoise
Dana Egan
Granny guitar by Ravi Krishnaswami
Peter Ngai
Norine and Miles Nakao Peyton Donald Pusateri
Manfred Reiff
Zawadi Rucks
Ruth Sergel
Zev Starr Tambor
Jane Wulf and Mario Montes
Screen Actors Guild
"Hukilau" courtesy of Owens Kemp Music
"Cinnamon" & "Wasting Time"
Written by Cox/ Morales
Appears courtesy of The Good Things
(c) 2007 Cox/Morales www.TheGoodThings.com
KFG Screenings, Awards, Distribution
Distribution
World Wide Distribution of KUNG FU GRANNY via Movieola and OUAT Media, Toronto CA.